Do you have a pest problem or are you worried about termites? We've got you covered. Safe for children and dogs, our pest control is incredibly successful in Indian homes.
Treatments with a quick onset of action
High-quality service at reasonable costs
A Money Back Guarantee Policy
Insecticide that are environmentally friendly
Emergency services to rapidly and effectively handle situations
We Are Open 7 Days A Week
Don't be hesitate about getting in contact with us; we'd love to hear from you.
Licensed and Approved by  Government
We are a government-registered organisation, we possess all the valid licenses, IPCA Certification, documentation necessary for carrying out the trade 
What's Included
24/7 Quick Response
Money Back Guarantee
Eco Friendly Services
Affordable Price
How it Works
Insecticide Spraying
Cold and thermal fogging
RTU Gel Bait
Drill-Fill-Seal
What's to Expect
Satisfactory Service
Time Constraints
IPM Authenticity Guarantee
Neat and Clean Execution
herbal insecticides
Regarding health concerns, of course we only use chemicals that are 100 percent safe for the environment, and we never compromise in the quality concerns
home services
Are you fed up with having pests in your house? Not to worry, you've arrived safely. Termites and other pests pose a significant danger to the structure and well-being of our dwellings and communities. If left untreated, it may potentially cause property damage and serious health issues..
Established in 2010, we are one of the most rapidly expanding companies in India that truly cares about our customers' needs. Pest control services from Indian Pest Management have been providing homeowners with relief and peace of mind for over a decade now, in addition to keeping them safe from termites, bugs, rats, and other unpleasant creatures.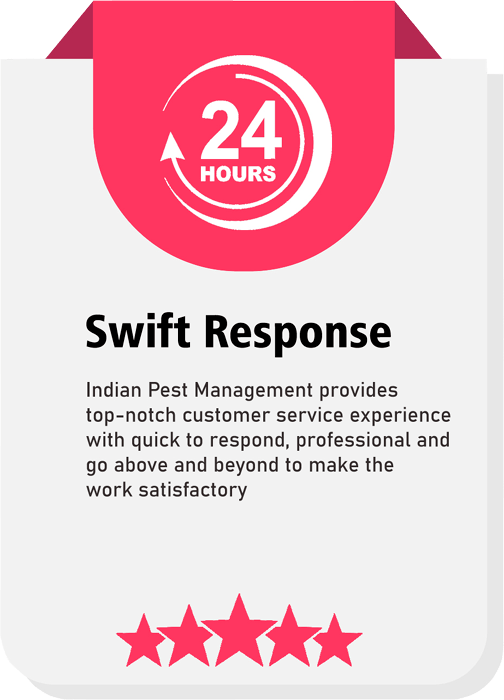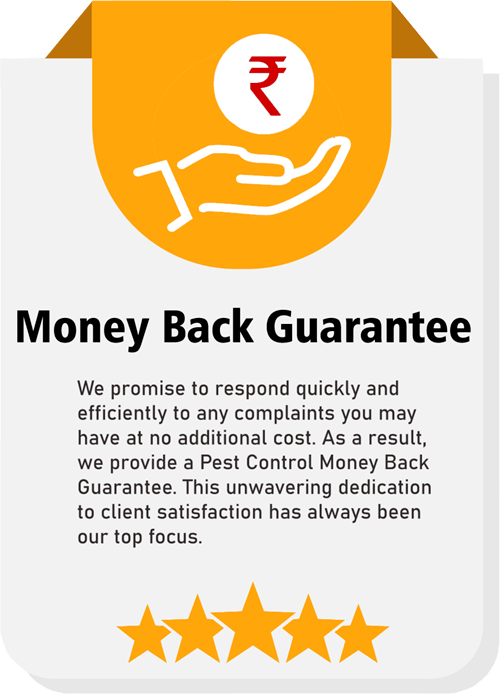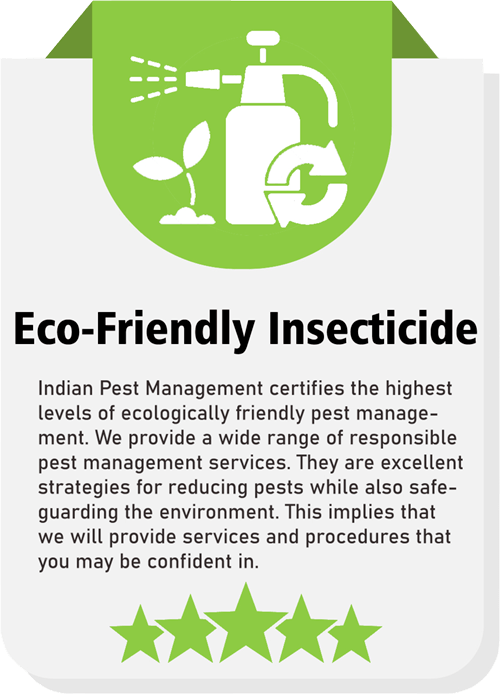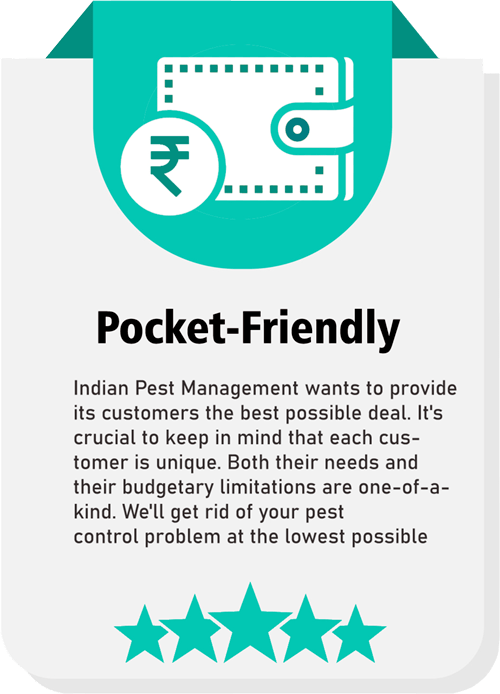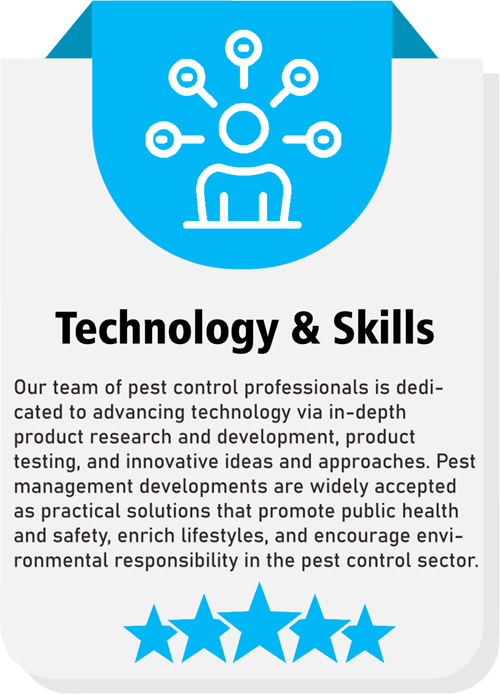 Excellent and prompt service for both herbal and insect concerns also. Pleasant and timely interactions with the employees.
Highly recommended for results that are guaranteed to be one Hundred Percent Thank you Indian Pest Management.
Ravi
"Professional and very good quality of service, great customer service as well as fast response. Just moved into new home in Kurla and found out that we had not only cockroaches but a pretty significant mouse infestation."
Shrikant
"I am thankful to the whole team for helping me get rid of the mosquitoes. Highly recommend Core pest for any of your pest related solutions. Do check them out they are best."
Moumita
Frequently Asked Questions
Keeping your home or business free of pests can be a challenge. With so many variables, it's no wonder you might have some questions about pest control. From the kind of pests that are likely to invade your property to how often you should get a pest inspection, there are many things to consider when dealing with unwanted guests. That's why we've put together this list of frequently asked questions about pest control. If you find yourself wondering about anything related to pests, read on for helpful information and answers to commonly-asked questions regarding the prevention and removal of common household pests.
How can I tell whether I have a pest problem?
One of the best ways to know whether you have a pest problem is by looking for signs of pest infestation. If you see pests in or around your home, you'll know for sure that you have a problem. Additionally, you may notice a sudden change in the appearance of your food. If you notice that your food appears to have been infested or has been chewed on, it's possible you have a pest problem. Conditions that may trigger a pest infestation include exposure to extreme temperatures, moisture, poor air circulation, and clutter. If you notice any of these conditions, it's a good idea to take steps to correct them to prevent infestations.
What's the first step in getting rid of pests?
First, you'll want to identify the type of pest you're dealing with. Different pests require different removal methods and may also require different extermination strategies. Once you know what you're dealing with, it's time to get rid of their food source. This can be as simple as sealing up cracks or holes in the walls or as complicated as installing an entirely new duct system. Next, you'll want to implement any pest control methods that will kill or remove the pests.
Where do most pests like to hide?
Most pests like to hide in dark, warm, and cozy areas that provide easy access to food. The most common areas that pests like to hide in include: Behind and underneath furniture in the home, such as behind bookshelves or beneath couches and chairs. Inside wall voids and behind wall insulation. Inside and behind appliances, such as refrigerators, washers/dryers, and stoves. Inside and behind garden tools and gardening equipment. In spaces between the roof and the ceiling. In spaces behind the toilet bowl and underneath and behind the bathroom sink. Behind and beneath concrete patios and walkways, as well as bricks and stones. Inside old structures and wood that is decaying or has been treated with pesticides.
How do I know if I need Pest Control Expert?
You can tell whether or not you need Pest Control Expert by the extent of your pest problem. If you have a minor infestation, like a few cockroaches, termite linings, ants or a spider or two, you can probably handle it on your own. However, if you have a major infestation or a recurring problem, you may want to call in the experts to get rid of the pests permanently. If your problem is recurring and/or seems to be getting worse, it's a good idea to call the experts. If you're not sure what type of pests you're dealing with, it's best to call the experts for help.
Are there natural ways to get rid of pests?
Yes, there are a few natural ways to get rid of pests. These methods are less effective than traditional pest control methods, but they're still worth trying before calling a professional. Some ways to get rid of pests include: Getting a cat. While not all cats will eliminate pests from your property, many love to hunt and will happily kill pests like mice and rats. Getting a dog. Like cats, not all dogs will eliminate pests from your property, but many love to hunt and will happily kill pests like mice, rats, and rabbits. Planting certain types of flowers and herbs. Flowers and herbs that are known to repel pests include lavender, eucalyptus, and geranium. Putting cinder blocks or wood on the ground to discourage pests from coming inside. Keeping your home clean and washed regularly. Regularly cleaning food and water sources will help starve pests and make them easier for insects to find other places to live.
How often should I have a pest inspection?
Some pest control companies recommend having a pest inspection two to three times per year. Others recommend only having inspections once every couple of years. The frequency with which you need to have a pest inspection will depend on your specific situation. If you live in a warm, humid area, you may need more frequent inspections than someone who lives in a drier climate. If you notice any signs of pests (such as webbing, droppings, or holes in food), you should call for an inspection as soon as possible. It's best to call for an inspection even if you don't see signs of pests as pests can set up shop without any visual signs.
FAQ: Are there ways to prevent pest infestations?
Yes, there are a few things you can do to prevent a pest infestation. First, you'll want to make sure your home or business is clean and well maintained. This includes sealing cracks in your walls and having your roof inspected at least once every three years. Additionally, you can install traps in your home to monitor for pests. You can also take care to avoid bringing pests indoors in the first place by not leaving dirty dishes in the kitchen, keeping your garden clean and free of debris, and sealing up your home when it's not in use.
FAQ: Is it okay to use pesticide sprays indoors?
It's not recommended to use pesticides indoors unless there is a very serious infestation that threatens your health and safety. Because they are toxic, pesticides are best used outdoors to kill pests such as ants. If you do use pesticides indoors, it's a good idea to open windows so they don't build up in the house. Additionally, some pesticides are toxic to humans and should only be used by professionals. If you find yourself with a serious infestation, it's best to call a Pest Control Expert for help.
Final Words
Pests can make your life very difficult. From ants to termites, pests can damage your home, eat your food, and cause allergic reactions. We hope this article was able to help you understand what pests are and how to get rid of them. If you have any questions, feel free to call a local Pest Control company +919897206206 for help.
Book Today. Satisfaction Guaranteed
With customer satisfaction as our number one concern, every member of our team is dedicated to assisting our clients in resolving their pest control difficulties
Call Now
Fill Pest Form